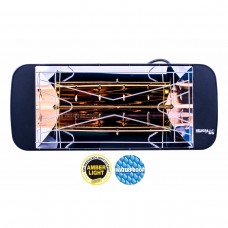 Heliosa is an Italian manufacturer that produces high-quality short-wave infrared heaters.
The heliosa hi-design 66 has a powerful 2000W low glare infrared lamp. These types of infrared lamps are equipped with hundreds of layers around the lamp, so that almost no orange / red appearance is noticeable.
The reflector is optimized to spread the heat waves over an area of ​​maximum 20m².
A sturdy stainless steel rear extension, which is anthracite or white coated, gives you the strength you expect from a device usually used outdoors or for industrial applications.

The Heliosa 66 is designed for surface-mounted applications, to be mounted on the wall or ceiling.

This version has an anthracite version.

Cable Length
Cable Lenght
3m
Capacity
Heated area
15 - 20 m² well protected against wind
Connection
Without Plug
Without plug
Current ( Amperage )
Amperage
5A > 10A
Make
Origin
European Union
Material
Construction
Stainless steel + powdercoating
Power ( Wattage )
Wattage
2000 Watts
Voltage
Voltage
230 V AC
Warranty
Warranty period
2 ans sur le armature
Water resistance
IP Value
IP X5
Wavelength
Infrared Wavelenght
Short wave
Heliosa 66 anthracite, Amber Light 2000W (3m)